Description
THIS IS A PRE-ORDER FOR A RECORD THAT IS BEING RELEASED JUNE 23 2023.
YOUR ORDER WILL SHIP ON OR BEFORE JUNE 23RD 2023.
Anthems and Phantoms is the 9th full length release of Philadelphia's instrumental progressive doom band, Stinking Lizaveta.
Stinking Lizaveta tells stories without words, inviting the listener to hear and think for themselves. What this album has is range. Between Phantom's sinuous slow beauty, its down and dirty stoner rock and explosions of crazed progressive punk.
CLICK HERE for other STINKING LIZAVETA titles we have for sale.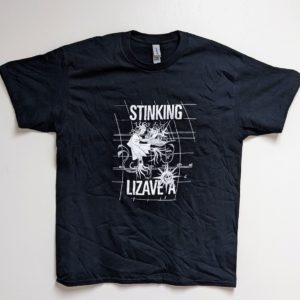 STINKING LIZAVETA RECORD RELEASE SHOW JUNE 24th!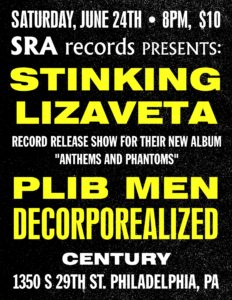 GET TICKETS HERE:
https://www.eventbrite.com/myevent/646410570417
TELEKINETIC YETI / STINKING LIZAVETA TOUR 2023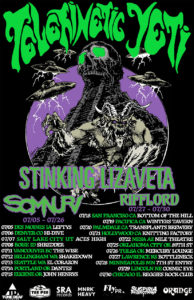 updates can be found at tonedeaftouring.com/yeti
07/05/2023 Des Moines IA Leftys https://bit.ly/3VxzcZd
07/06/2023 Denver CO Hi Dive https://bit.ly/3AT15Sc
07/07/2023 Salt Lake City UT Aces High Saloon
07/08/2023 Boise ID Shredder
07/11/2023 Vancouver BC The Wise https://bit.ly/42jIuub
07/12/2023 Bellingham WA Shakedown https://bit.ly/3p60da6
07/13/2023 Seattle WA Funhouse @ El Corazon https://bit.ly/3nsO66E
07/14/2023 Portland OR Dantes https://bit.ly/3AU7Lzk
07/15/2023 Eugene OR John Henrys https://bit.ly/3NCpqmF
07/18/2023 San Francisco CA Bottom Of The Hill https://bit.ly/42q5QOX
07/19/2023 Pacifica CA Winters Tavern
07/20/2023 Palmdale CA Transplants Brewery https://bit.ly/4154Yy7
07/21/2023 Hollywood CA Knitting Factory https://bit.ly/3Ly5jDw
07/22/2023 Mesa AZ Nile Theatre https://bit.ly/3VCwXUM
07/25/2023 Oklahoma City OK 89th St https://bit.ly/3LRJEru
07/26/2023 Tulsa OK Mercury Lounge https://bit.ly/3nAvPEi
07/27/2023 Lawrence KS Bottleneck
07/28/2023 Minneapolis MN 7th St Entry https://bit.ly/42pjP7q
07/29/2023 Lincoln NE Cosmic Eye https://bit.ly/416d6hL
07/30/2023 Chicago IL Reggie's Rock Club https://bit.ly/3HA2vVm