Description
THIS IS A PREORDER FOR A RECORD BEING RELEASED JUNE 9TH 2023. YOUR ORDER WILL SHIP ON OR BEFORE THAT DATE.
AVAILABLE ON CD AND PURPLE MARBLE VINYL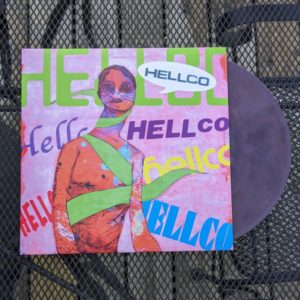 HELLCO ALBUM RELEASE SHOW:
June 2nd at 7pm at
RUBA CLUB 416 Green St, Philadelphia
Hellco / The Sparklers / Chino / The Falling Out
GET TICKETS HERE       FACEBOOK EVENT PAGE HERE
The debut album from PA progressive punk unit HELLCO is a groove-heavy blend of endless punk styles- twisted sludge, straight ahead thrash, '77 pogos, stomping riffs, cowpunk, jazzcore, blues, and so much more! Every song is different but they all RAWK! Darkly humorous tunes about pandemic love, brain damage, everyday despair and hope! The end of civilized society never sounded so great! Featuring Dave from FOD and Mikey & Josh from Rest Etiquette and cover art by Eric DeJesus.
Check out what John at Punknews.org has to say:
"Well, Dave of F.O.D. has a newish band called HellCo. And get this, they play hardcore that sprints at 450mph. Dave pulled in Mike and Josh from Rest Etiquette with the intention of forming something new that also still kicked out the windows. This band is fast, funny, and the riffs slash! But… the new band also gets a little arty here and little weird there. It's an evolution that stays true to Dave's hardcore roots without being derivative."