Description
This is the EP that started it all. FOD in June of 1982 with their first drummer Mike and their only recording with their first bassist Zeke (later of McRad). Originally released as a 7 song dubbed tape. Now re-released with an 8th song from the same session, remastered on a pro-printed, shrink wrapped tape with a download card.
ALSO AVAILABLE AS A "RELICED" CASSETTE in a craft box (a tape that looks old, but it isn't actually old).
(this is also on the "Shatter Your Day" reissue)
Tape comes with an instant 320 MP3 download and a download card.
REGULAR 7″: 250 of this edition pressed (along with 50 limited and 5 test presses).
LIMITED: #49 of 50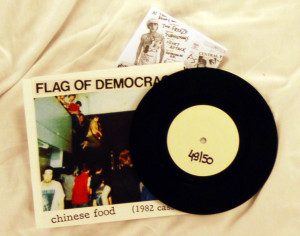 2013 SRA Records, originally released by FOD  in 1982. All SRA Records releases include a free instant 320 MP3 download.