Description
"23" is FLAG of DEMOCRACY's second full-length record. The first with their "new" drummer Bob who joined in 1987. Originally released in 1988 on New Jersey's now defunct Buy Our Records, "23" is a strange mix of even faster and thrashier tunes than seen on "Shatter Your Day", but even if it seems impossible, more melodic songs. The CD and download versions contain a live radio set in California from 1988 and the other two "Five Bands That Have Changed The World" comp tracks, all remastered by James Plotkin. The original artwork has been replaced by the art used for the promotional poster for the 1988 release. While supplies last the LP versions ordered directly from SRA Records will ship with an LP fold over style cover of the original cover. The vinyl issue comes with 250 in black, then another 250 fading from black to while (varying gray, and black spotting for about 100 copies).
$18 DELUXE PACKAGE:
LP (with over wrap of original art while supplies last)
CD
POSTER (while supplies last)
STICKER
$12 LP

$8 CD
$7 Cassette
$6 MP3 Download
$6 FLAC Download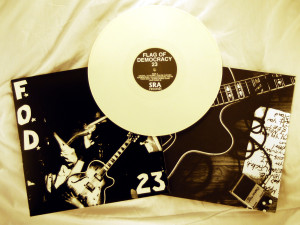 Original release 1988. SRA Records 2013. All SRA Records releases come with an instant 320 MP3 download of the record.